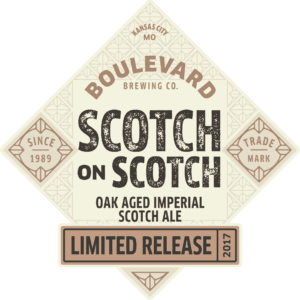 I admit it. I'm a sucker for barrel aged beers. Especially anything that has touched a whiskey barrel. So when I recently spotted Scotch on Scotch  by Boulevard Brewing on the beer shelf I knew I was buying it. This beer is being introduced in 2017 and is part of their Smokestack Series. Boulevard describes the Smokestack Series as:  "A collection of bigger, bolder, more complex beers, these delicious, higher alcohol offerings are perfect for sipping or sharing." Other beers in the series that are favorites of mine are Bourbon Barrel Quad, The Sixth Sense, and Dark Truth.
Scotch on Scotch is described by Boulevard as:
OAK-AGED IMPERIAL SCOTCH ALE
Based loosely on Snow & Tell and inspired by our love of Rye on Rye, Scotch on Scotch is an Imperial Scotch Ale aged on Scotch barrel chips. A massive malt presence is created by layering caramel and amber malts with just a touch of smoked malt for additional complexity. The exposure to oak chips following primary fermentation allows Scotch on Scotch to coax rich woody, char and vanilla notes along with the essence of Scotch whisky into a hearty, warming beer, a liquid fireplace of sorts. Hopping with Magnum, Chinook and Northern Brewer hops contributes a spicy earthiness to Scotch on Scotch.
The ABV for this beer is 9.6%.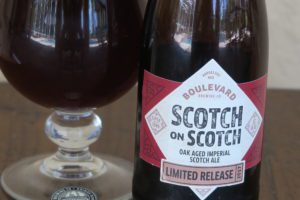 My Experience
First off you've noticed I've named this post "Experience" rather than the typical "Review". I think that sharing my experience is a better perspective than attempting to do a review. Who am I to say that a particular beer is good or bad, or how it rates against other beers in the same style. But I can document and share my experiences with the beer.  And my experience ? Take one of my favorite styles of beer,  Scotch Ale. Throw in some "whiskyish wood"  flavors, bump up the alcohol, and finish that with some smoky malt sweetness. I'm drooling as I write this. Did the beer meet my expectations ? Oh yes. More accurately, Oh Hell Yes. This beer really hits my beer hot spots. Whiskey barrel flavors (but not too boozy). Big malt tastes. Light flavors of smokiness. Higher alcohol (you knew that was coming!). Assuming I can find some remaining bottles on the shelves, I will buy this again.  I paid $16.99 for a 4 pack of 12 ounce bottles. At that price it does fall into the 'need to think about that' portion of my beer price scale. After all, I can get some pretty decent beer for $12 (for a 6 pack).  But it was so damn good I know I'll be buying it again.
Why is it named the Smokestack Series?
As I sipped and savored my Scotch on Scotch I wondered why Boulevard named their line of stronger  beers the Smokestack Series. It turns out that the brewery has a 36 foot tall smokestack which has become a landmark for the brewery in the downtown Kansas City area.  They wanted to pay tribute to the smokestack and their urban roots in the community. There you have it. One more beer question answered.
Boulevard Brewing Company is located in Kansas City, MO.   https://www.boulevard.com/