When I first thought about which beer to have for my first official Belgian Tuesday, I wasn't thinking of this beer.  I thought maybe a nice Belgian Tripel, or perhaps a La Fin du Monde or a McChouffe. But then I saw this one bottle looking very lonesome in the back of the fridge. Á Tout le Monde made by Unibroue. From the label it is a Belgian Styled Dry Hopped Saison. The fact that it is a saison explains why there was only one bottle in the fridge. I remembered I had seen this new beer from Unibroue, one of my favorite breweries, but was a bit wary of the saison style. Saisons and me (hmmm…new book title???) aren't on the same page so I typically stay away from them. So instead of buying the standard four pack I only bought the one 12 ounce bottle ($3.49).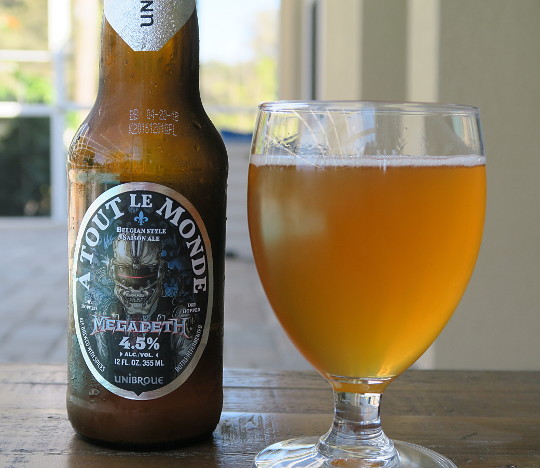 From the brewery website:" Brewed in honor of the friendship and mutual passions of Megadeth's Dave Mustaine and Unibroue's Brewmaster Jerry Vietz, and inspired by the most popular hard rock song to feature a chorus sung entirely in French, À Tout le Monde Ale is dedicated to all the friends of heavy metal music and Belgian Style ales in Québec and throughout the world. The label proudly features a symbol that is synonymous to Megadeth, their well-known mascot Vic Rattlehead"
Beer Notes from Unibroue: Delicately Spiced. Citrusy and Slightly Tart with hints of tropical fruit such as mango and lychee.
The alcohol is 4.5% ABV and the IBU is 22.
My notes on the beer: As a thirst quencher out in the sun I think it would work well. Drinking the beer I found a very dry finish and a taste that didn't linger long. The taste starts out like a stronger belgian style, but then fades almost immediately to that dry lighter finish with an underlying flavor that I can't put my finger on. That final flavor is what turns me off of most saisons. Granted, some are way more funky and earthy than this one, but it still doesn't work for me.
Unibroue is located in Chambly, Quebec, Canada. They have been brewing beers since 1990. I  first discovered their beers in 1994 on a trip to  Quebec. That beer in question was La Fin Du Monde and it still is one of my all time favorite beers. Thankfully it is in good distribution here in Florida so it is on my regular beer drinking rotation.
Á Tout le Monde will not be in my regular rotation. Nothing at all against the beer itself. I'm sure as saisons go, its a good beer. After all, Unibroue made it so has to be a good beer. But the style just isn't my cup of tea, uh glass of beer.