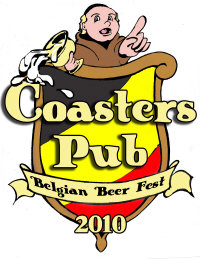 This past weekend The Beer Goddess and I headed to Melbourne Florida  for a Beer Festival. Not a beer festival with white tents, tasting booths, and small cups,  but to a  great beer pub which hosted their first (hopefully the first of many!) Belgian Beer Fest.  For three days (February 26, 27, and 28)  Coasters Pub disconnected their draught beer selections and replaced them with 35 different  Belgian (or Belgian style) beers. And a mighty fine collection it was. Here are some of the beers they had available over the weekend:
Affligem Blonde Ale
Allagash Curieux
Alvinne Gaspar
Alvinne Melchior
Alvinne Podge
Avec les Bons Dupont
Cantillon Rose de Gambrinus
Chimay Triple
Cigar City Belgian Coaster Ale – made special for this event – A Belgian-style IPA
brewed with Trappist Ale yeast and infused with Guava.
Corsendonk Abbey Ale
Corsendonk Brown Ale
Corsendonk Christmas Ale 2008
Delirium Noel
Delirium Tremens
DeRanke XX Bitter
Duchesse De Bourgogne
Gouden Carolus Noel
Gulden Draak
Ichtegem's Grand Cru
Kerkom Bink Blonde
Kwak
LaChouffe Golden Ale
Lindeman's Framboise
Maredsous 8
Moinette Blonde
Noel des Geants
Nostradomus Brown Ale
Ommegang Hennepin
Piraat
Saison Dupont
Saxo Blonde Ale
Scaldis
Slaapmutske Triple Nightcap
Smisje Vuuve
St Bernardus Abt 12
St Bernardus Prior 8
St Bernardus Triple
St Bernardus Xmas Ale
Stella Artois
Teras Boulba
Terrapin Belgian Stout
Tripel Karmeliet
Tsmisje Speciale
Unibroue Ephemre
Unibroue Maudite
Unibroue La Terrible
Unibroue Trois Pistoles
Wittekerke
Even though the place was crowded, we rarely had to wait more than a few minutes to order something else. A Big Beer Living Salute to the hard working and friendly staff!
We arrived Friday afternoon and were lucky enough to get a table right away. Soon the beers were flowing, the musician was playing (very good!) and all was good in Beer Living land.  By early evening we stumbled headed back to our hotel room across the street. My notes from the day indicated: strong beers (9% and above), why are there no rollbars on bobsleds (can you tell we were watching the Olympics?), and that's why they are called Killer Whales instead of Soft and Cuddly Whales.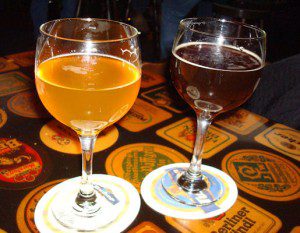 The next day we were surprised by an impromptu visit by The Mark and The Linda as they decided to head over to the coast to join in some Belgian Beer Festivities.  It was more crowded on Saturday and we ended up having to wait for about a half an hour for a table (which really wasn't too bad).  We noticed that they had already run out of some of the beers by then and had replaced them with new ones. They reprinted their Belgian list several times that day. Their Belgian beer list was printed with the names and a number (which corresponded to a number taped on the beer taps). So you ordered by number instead of the name. With some of the Belgian names that probably worked the best, although it was fun to hear a few people asking for  Kwak or Tsmisje Speciale instead of the assigned number.  We did receive one beer that we didn't want as the waitress had written the correct number 28, but when she got to the bar she misread what she had written and asked for a 20. As soon as she put the #20 down on the table we knew it was way to light in color to be a #28 (especially since we already had another #28 on the table). But in the end she made everything good (and we noticed she wrote the numbers a bit larger and clearer on her notepad for the rest of the evening)  Several hours and many beers later we called it an evening.
As I mentioned, this was the first Belgian Beer Fest at Coasters Pub, but I really hope they do it again.
This was the first time that we had been to Coasters Pub (it is 97 miles away from our door step so it is not exactly right around the corner) but we will be back.  Their 'normal' beer selection looked really good, and their kitchen put out some tasty food. We really enjoyed the 'feel' of the place. Too bad it is so far away.
We stayed at the  Radisson Oceanfront which was literally right across the street from Coasters. The hotel was very convenient and all rooms overlook the beach. We were on the top floor (the 16th) and the view was great. We commented that we would be back in warmer weather for a weekend beach getaway and definitely would be spending some time back at Coasters.