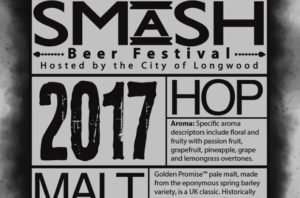 An upcoming beer festival sounds quite intriguing.  Take 40 breweries, all from Florida, and give them the same Hop variety and Malt variety to use. Whoever comes up with the most creative and tastiest beer wins. Each festival attendee gets 3 tokens to vote for their favorite beer.   There will be beer other than the "competition beer" available from the breweries as well.   Besides the beer, the nice thing is that proceeds are going to The Sharing Center, a very worthy charity.
The event takes place on May 13, 2017 in Longwood Florida from 2:00pm to 6:00pm.
Head on over to the festival site for all the tasty details:
http://www.floridasmashbeerfestival.com/home/
The Bad News
I can't be there. Due to a previously booked family event I won't be able to attend. Would love to hear from those that do attend how it turned out.
The Good News
Since I can't be there, there will be more beer for everyone else!