I was reading an article somewhere that mentioned that stouts were really hot right now. Wow, they weren't kidding. I offer before you (actually I don't because I drank it all), Sriracha Hot Stout, made by Rogue Ales Brewing. Yes, stout with Sriracha hot chilli sauce added.  This 22 ounce bottle was a Christmas gift and I have been wanting to try it for a few weeks.
This beer as an alcohol content of 5.7% ABV and an IBU of 55.
Notes from the bottle (and website):"ROGUE Sriracha Hot Stout Beer, made from Huy Fong original hot chili sauce and sun ripened Rogue Farms ingredients, is ready to drink with soups, sauces, pasta, pizza, hot dogs, hamburgers, chow mein, or anything you'd like to wash down with a spicy kick.
Dedicated to the Rooster."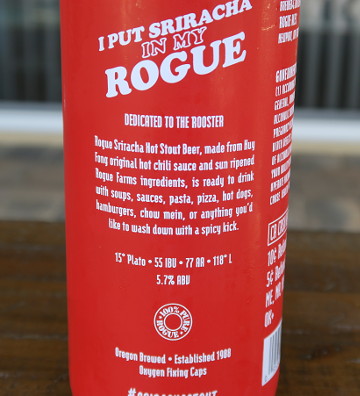 My first thought when reading that was , wow, John Wayne's character from True Grit had a beer dedicated to him. Cool.  But then I realized it was the other rooster. The one on the Sriracha hot chilli sauce bottle.   
The beer bottle itself is a great design. Sharing the same colors and type of design as the hot sauce bottle, even down to the green cap. If you saw this in Costco or some other warehouse club you might pick it up thinking you actually had the hot sauce instead of a beer.
I know what you are thinking, enough of all this spicy humor, how spicy is the beer? Well, truthfully, it is not that hot. Of course everyone's hot levels are different but I didn't get a lot of heat from this. The initial taste is very stoutish and then a bit of a different flavor and  heat comes in on the back end.  As far as a stout goes, it is quite enjoyable. The flavor of the Srirachi sauce is present but just enough to mellow out the hop flavors. It actually reminded me of an oyster stout I had a couple of years ago. Just a flavor lingering under the surface.
The label was government approved in January 2015, so the beer came out sometime after that. Interestingly there appears to have been several other Sriracha named beers in this same time frame. Harpoon Brewing had Barcade Sriracha Blonde, and Flying Dog Brewing had a Srirachi Pale Ale. I guess Srirachi  was hot back then. Insert rimshot sound here.
Conclusion: While I enjoyed the flavors of the beer, it is probably not going to be in my regular buying rotation.  I guess in the framework of my rating system, I would drink this again, but I probably would not buy it.